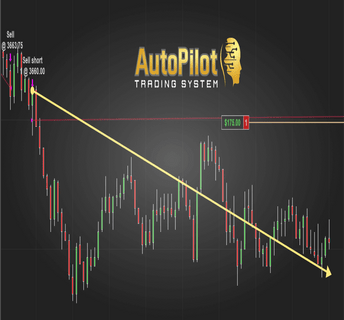 AutoPilot trades occur during specific periods of the day. Really, this is ideal. Yes, we have narrowed down specific time frames that work best throughout the day. This helps limit the exposure of your trading account. Other automated systems can subject your account to increased risk with around-the-clock trading. Not AutoPilot!
AutoPilot is designed for (E-mini) or MES (Micro E-mini) charts. NQ (Nasdaq) and MNQ (Micro Nasdaq) charts are also compatible. We will provide you with the ES/MES and NQ/MNQ settings.
Buy the Autopilot
In DayTradeToWin's 13+ years in operation, AutoPilot is the first automated trading system I have ever offered.
Yes, I have waited that long to truly deliver something of quality. After rigorous backtesting and live testing, I am now ready to offer it to you…
And I am grateful after all these years to be in a position to help you on your path of realizing your dreams.
More great news – you do not need to be a genius or rich person to be a successful trader. AutoPilot is designed for everyday, regular people like you. The idea is simple: turn it on, let it run on its own or manage each trade AutoPilot offers. Auto Pilot does all the work for you.
No other system out there is doing what AutoPilot does. The entire methodology is based on solid price action principles.
We analyzed vast amounts of chart data, noticed what worked again and again, then automated what worked. That's what AutoPilot is. That's what you'll be using.
Focuses on specific periods of the day
Designed to hold on to the big moves
Designed to limit the time/exposure in each trade
Targets and stops can be independently configured
Avoids trading unnecessarily
Compatible with today's volatile conditions
Daily profit loss management option and many more
AutoPilot Automated Trading System
Within NinjaTrader, AutoPilot can be found in the Strategies area. Add AutoPilot, configure its settings, click Enable, then click Apply. AutoPilot will then find trades and place them for you based on the time settings and the method's unique algorithm.
Automated trading, also called algorithmic or "algo" trading, is when computer software buys and sells on your behalf.
Yes, "algorithmic" is a fancy word. However, the word's meaning is simple. It's when a computer automates the trading process. You do not need to be financial expert or a computer expert.
Some algorthmic systems are called trading bots or trading robots.
AutoPilot was designed for everyday, regular people/traders like you. In your Member account, we include everything needed to get you started. Download the software, watch the training videos, plug it in, and let the system do its thing! Also, don't forget to attend the live training.
Click here to purchase the Autopilot
Review Score
The best value for a trading course offered by DayTradeToWin.com. The easy to use indicator, accurate strategy, and bonus course are an enticing package sure to please new and veteran traders alike.