S&P 500 Futures Surge: Stocks Ride the Wave of an Extended Rally

U.S. stock futures edged up at the start of Monday's trading, driven by expectations that the Federal Reserve might have concluded its series of interest rate increases, providing a positive backdrop for market sentiment.
Market Performance:
S&P 500 futures (ES00, 0.19%) showed a 0.2% increase, rising by 7 points to reach 4383.
Dow Jones Industrial Average futures (YM00, 0.08%) saw a 0.1% rise, adding 35 points and reaching 34162.
Nasdaq 100 futures (NQ00, 0.22%) climbed 31 points, indicating a 0.2% increase to 15210.
Previous Market Movements:
On the prior Friday, the Dow Jones Industrial Average (DJIA) surged by 222 points, equivalent to a 0.66% rise, reaching 34061. The S&P 500 (SPX) showed a 0.94% gain, rising by 41 points to hit 4358, while the Nasdaq Composite (COMP) increased by 184 points, a 1.38% rise, reaching 13478.
Futures data suggests that stocks will likely extend their recent rally on Monday, although any additional gains are expected to be modest. Last week, the S&P 500 saw a robust increase of 5.85%, marking its most significant weekly gain in almost a year. This surge was primarily driven by comments made by Federal Reserve Chairman Jay Powell and indications of a cooling labor market, leading to a significant drop in bond yields. This, in turn, fostered expectations that the U.S. central bank might be wrapping up its cycle of interest rate hikes.
Despite the 10-year U.S. Treasury yield dropping below 4.5% on Friday after touching a 16-year high above 5%, it has since rebounded to 4.59%. This slight increase in yields is somewhat tempering the fresh optimism in the equity market at the beginning of Monday.
Stephen Innes, managing partner at SPI Asset Management, emphasized that the equity market's movements are heavily influenced by Treasury bonds. The sustainability of the recent rebound in bonds will be crucial. The upcoming bond auctions this week and the release of the Consumer Price Index (CPI) later in the month could significantly impact the likelihood of another rate hike.
The start of the week brings minimal economic data, with the sole notable release being the Federal Reserve's senior loan officer survey for October, scheduled for 2 p.m. Eastern time. Additionally, Federal Reserve Governor Lisa Cook is set to speak at Duke University at 11 a.m.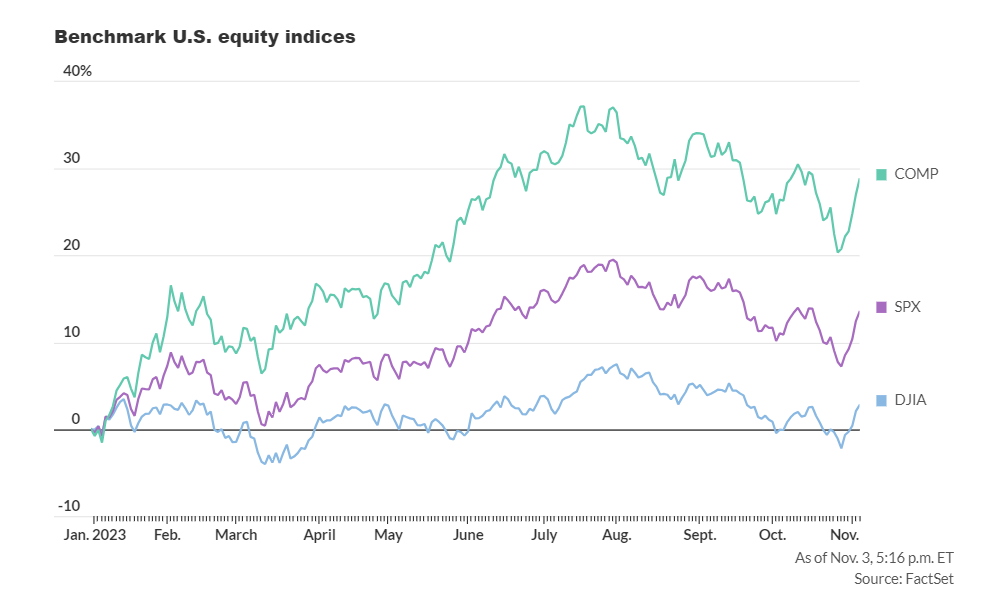 Earnings reports from NXP Semiconductors, Vertex Pharmaceuticals, and Tripadvisor are expected after Monday's closing bell, while Uber and Walt Disney are anticipated later in the week.
According to John Butters, senior earnings analyst at Factset, 81% of S&P 500 companies have reported results, with 82% delivering a positive earnings per share surprise and 62% posting a positive revenue surprise.