Trading Signals: ATO 2 & Atlas Line
The Atlas Line and ATO 2 have been on quite a roll recently. Here are two more recent charts (with trading signals) we want to share with you. Remember that you can buy each trading method separately or get them together (along with eight or so other methods/concepts) with lifetime licenses as part of the eight-week Mentorship Program. Without further ado, let's see those recent charts…
Trading Signals for Dec. 19, 2017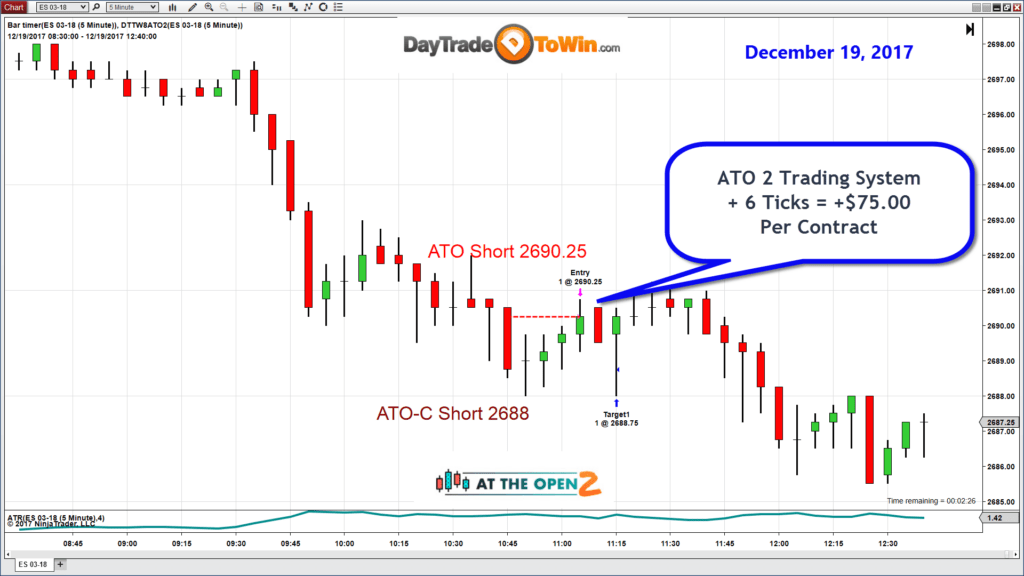 If you're operating with a tighter budget and want to trade with just one of our strategies, many students have found success with our ATO 2 course and software. About two signals per day are generated by the software. You learn how to manually find the trades yourself as well. In this chart, it was possible to win up to six ticks by following the rules. Note that broker fees and other potential trading costs are not accounted for. This six ticks comes out to $75 because each tick on the E-mini is worth $12.50.
Traders like to potentially increase profits by trading with a larger number of contracts. For example, trading with two contracts may have resulted in $150. The amount of contracts you can trade depends on your broker and your account financing. This ATO 2 trade probably made many traders nervous because price kept rising despite the short signal. That one candle hit the profit target and that's all that was needed.
Trading Signals for Dec. 15, 2017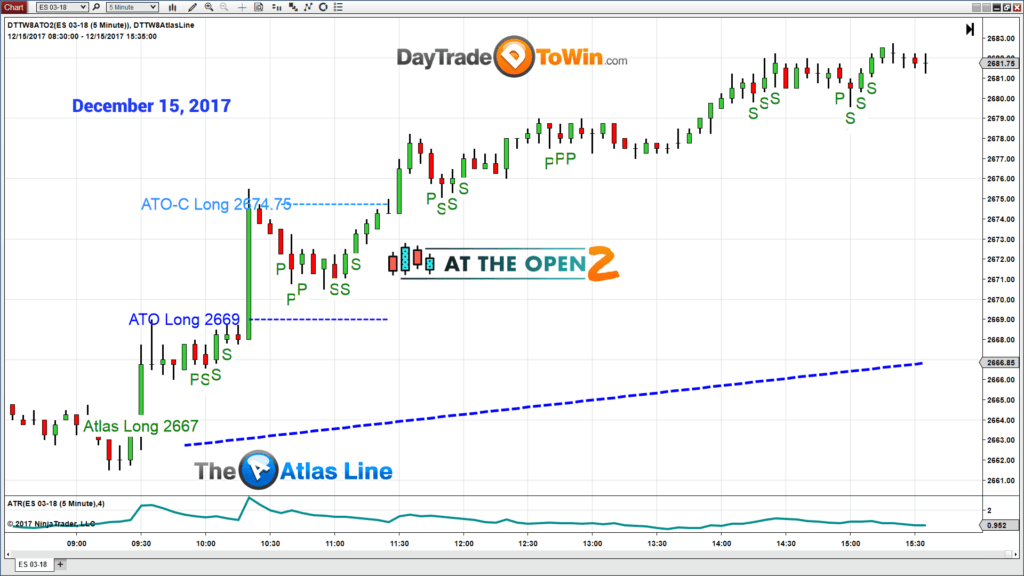 Trending days are not that common, but when they arrive and two systems agree on the direction, John Paul gets excited. Notice that both systems provided long signals prior to large moves. The Atlas Line's signal occurred at the close of the 9:55 a.m. EST candle. Two ATO 2 trades followed: the first occurring around 10:15 a.m. and the second soon after. It looks like all three were winners.
Large green or red candles are often the result of news events (planned or unplanned) swaying market direction. Generally, it's best to avoid the known market-movers. If you happen to be in a trade when one occurs, John Paul recommends sticking to the rules. In total, it looks like there were three nice winners. Note the last trade is an ATO-C (Trade Chaser), taught in the ATO 2.