Trading Holidays: Memorial Day Hours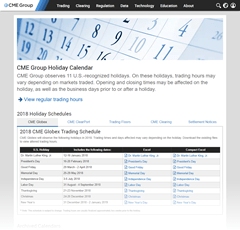 Monday, May 28, 2018 is Memorial Day here in the U.S. Because it's a fairly significant holiday, popular markets close early. Specifically, the E-mini S&P 500 halts trading at 1 p.m. ET and reopens around 6 p.m. ET. Yes, you will be unable to trade for about five hours. Other CME products will be impacted, specifically those in the equity, interest rate, FX, NYMEX & COMEX categories. If you're in a different time zone, remember to convert the hours. ET is UTC-4 (New York time). Take a look at the official trading calendar from the CME. A number of trading holidays are listed.
Upcoming Trading Holidays
When is the next trading holiday? July 4, 2018 is Independence Day. July 4 is a Wednesday, so you can expect reduced trading hours. Expect another post on that closer to that date.
Friday, May 25, look for slower than normal market conditions. The Friday before a three-day weekend/holiday tends to be slower. Slower market activity tends to chop back and forth, which can increase risk.