Thanksgiving Trading Hours – Are You Prepared?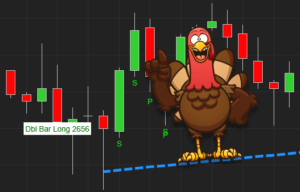 The CME's (Chicago Mercantile Exchange) calendar can be a bit confusing. Do you know what the Thanksgiving trading hours will be? Thanksgiving Day, a major U.S. holiday, is November 22, 2018. The E-mini S&P 500 (ES) and other CME equity products (markets) will close early on Thursday and Friday at 1:00 p.m. ET and 1:15 p.m., respectively. Get more details via the CME calendar (Excel files) or this consolidated version:
CME equity products:
Nov. 21, 2018: normal market hours
Nov. 22, 2018 (Thanksgiving Day): early close (halt) at 1:00 p.m. ET (13:00 GMT-5). Markets reopen at 6:00 p.m. ET (18:00 GMT-5).
Nov. 23, 2018 (Black Friday): early close at 1:15 p.m. ET (13:15 GMT-5).
Have you traded around holidays or during half-days before? Watch out for slow or erratic activity. Big market movers and automated systems may not be as active. Apply an ATR (Average True Range) with a period value of four to get a more realistic view of current volatility levels.
Tech Stocks in Trouble?
As we proceed into the final weeks of the final quarter of 2018, the markets are temperamental. In recent days, news outlets have covered the fallibility of tech stocks, particularly Apple, which saw a significant fall around Nov. 19, 2018. Facebook's CEO Mark Zuckerberg appears to be the subject of much controversy, with his leadership competence in question as well as the platform's privacy controls. Jeff Bezos, Amazon CEO, said within the last week or so that Amazon will fail one day. Do you agree with analysts that say Amazon is a better long-term investment than Google, Apple, or Facebook? As we move into the final weeks of 2018 with holiday shopping intensifying, we will see if there are any more "leaks" with real or perceived pressure.
December Trading Reminders
If you trade the E-mini or similar CME equity indexes, note the Dec. 13, 2018 roll date. On that day or soon after, roll over your futures contracts to 03-19. Otherwise, you will see your charts "dry up." And of course, expect further market closures later in the month due to Christmas.