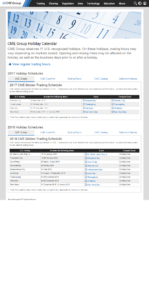 As we approach the holidays, it's important to have an idea of upcoming market closures. Fortunately, the CME Group posts holiday calendars, letting traders know about such conditions. The holiday trading calendars can be tricky to interpret, so we've condensed the notices as follows. Remember that we mainly look at equity products (aka markets) like the E-mini S&P 500, so some of these hours may not apply to you specialized commodity traders. The times below are listed in US/Eastern (GMT-5, New York time). The CME Group website typically uses US/Central, which is an hour behind New York time.
Holiday Trading Schedule 2017
Christmas Day, Monday, Dec. 25, 2017 – markets closed and reopen at 6:00 p.m. the same day
New Year's Day, Monday, Jan. 1, 2018 – markets closed and reopen at 6:00 p.m. the same day
Because Christmas Eve and New Year's Eve both occur on Sundays, the CME Group does not indicate closures for those days.
What comes next? Look for Dr. Martin Luther King, Jr. Day. On Monday, Jan. 15, 2018, the markets will halt at 1:00 p.m. and reopen in the evening at 6:00 p.m.