Price Action Trading System – Roadmap
The chart below shows the Roadmap and ABC day trading methods from DayTradeToWin.com. Look at all those day trading signals. It's a recent E-mini S&P 500 chart. If you work from left to right, you will see there is a "RMap Short" signal first. Soon after, the market moves down, indicating a winning signal. Some time goes by without any signal. However, we see some Zone ranges or boundary points in the down direction. Price never crossed these Zone lines.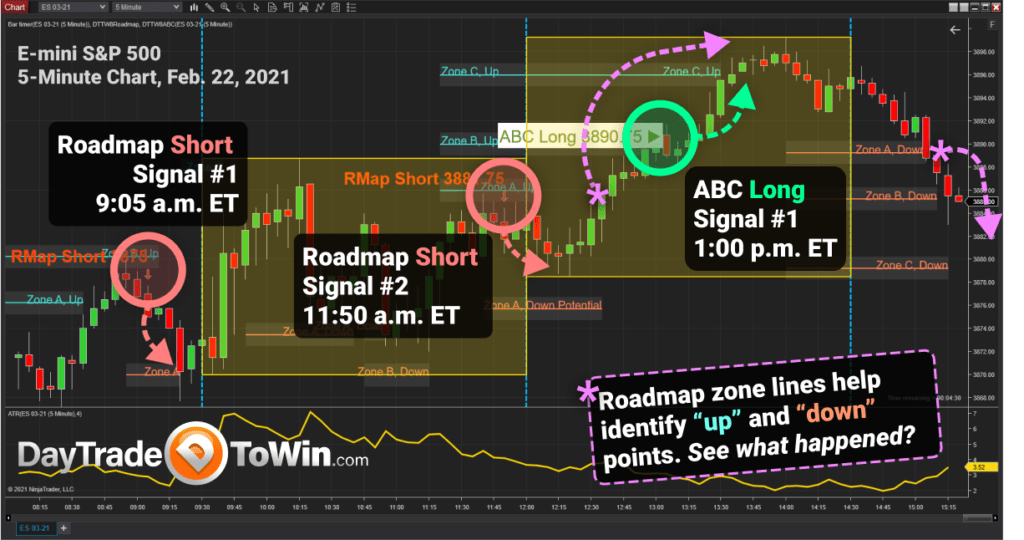 The meaning and significance of these license are taught in the included live training. The next signal is also a Roadmap short. We see price move upward, but if you stayed with the trade, it is possible that you could have been successful here as well. The next area you should pay keen attention to. Do you see those green/up Zone lines? There are three of them. Amidst them, there is an ABC Long. The ABC is a separate trading system. This means the Roadmap can help validate or confirm other systems because the Zone direction was also "looking up." With this additional confirmation, you may feel more confident. The ABC long signal should have been a winner.
Now here comes something even more interesting. There are no further Zone up or Down signals until later on. There are no further ABC signals until later on (not shown). You may get the sense the Roadmap is sort of intelligent in the way it behaves. Pull up the chart for yourself and you'll see that these multiple Zone downs were really onto something that day!
Remember, all of this is based on price action. There are known patterns among special circles in the day trading world. The Roadmap uses a certain set of key numbers in relation to common price action patterns. In a way, it can be used like the Atlas Line where you can get an understanding of where the market is expected to go throughout the day or at certain points. Then you can use the day trading system itself or use it with another technique in order to identify opportunities. However, make no mistake – the Atlas Line and Roadmap are completing different with how they calculate price action and produce signals.
So, how does one get the Roadmap, ABC, and all of the rest? The eight-week Individual or Group Mentorship Program from DayTradeToWin.com is the only way. They have new classes that begin every month. They'll teach you exact techniques for powerful price action trading.