U.S. Stock Futures Inch Upward as Bond Yields Dip; Nvidia Earnings Awaited
On Wednesday, U.S. stock futures showed a slight upward movement, coinciding with a decline in bond yields. All eyes were on Nvidia Corp. as investors eagerly awaited the company's earnings report. Nvidia, a leading player in the artificial intelligence software realm, was scheduled to release its results after the market's closing.
Key Highlights:
S&P 500 futures (ES00, 0.14%) experienced a modest rise.
Dow Jones Industrial Average futures (YM00, 0.08%) climbed by 135 points, equaling 0.4%, reaching 34,479.
Nasdaq 100 futures (NQ00, 0.22%) moved up by 116 points, or 0.8%, reaching 15,075.
In the previous trading session, the Dow (DJIA) and S&P 500 (SPX) faced losses, while the Nasdaq (COMP) eked out a slight gain.
Market Dynamics:
The uptick in stock futures coincided with a reduction in bond yields, both in Europe and the U.S. This was triggered by news of a larger-than-expected contraction in eurozone economic activity, leading to a 33-month low.
However, the day's primary focus was on Nvidia's (NVDA, -2.77%) earnings outcome, eagerly anticipated after the market's close. With Nvidia's shares having surged by 212% in the current year, in contrast to the S&P 500's gain of 14.3%, the company epitomized the enthusiasm surrounding major tech stocks and the excitement around artificial intelligence, both of which had been instrumental in driving up equity indices for much of 2023.
The reception of Nvidia's financial results and projections was expected to significantly shape the short-term market sentiment.
Ipek Ozkardeskaya, Senior Analyst at Swissquote Bank, commented, "Investors will focus on whether Nvidia's Q2 sales meet the $11 billion estimate. Anything less than absolutely fantastic could trigger a sharp downside correction in Nvidia's stock price which rallied 345% since the October dip."
Traders were anticipating a potential 10% movement in Nvidia's shares for the remainder of the week, as indicated by the pricing of the company's stock options.
Susannah Streeter, Head of Money and Markets at Hargreaves Lansdown, noted, "A jolt [of] volatility is set to be sparked by the chip giant's numbers and outlook."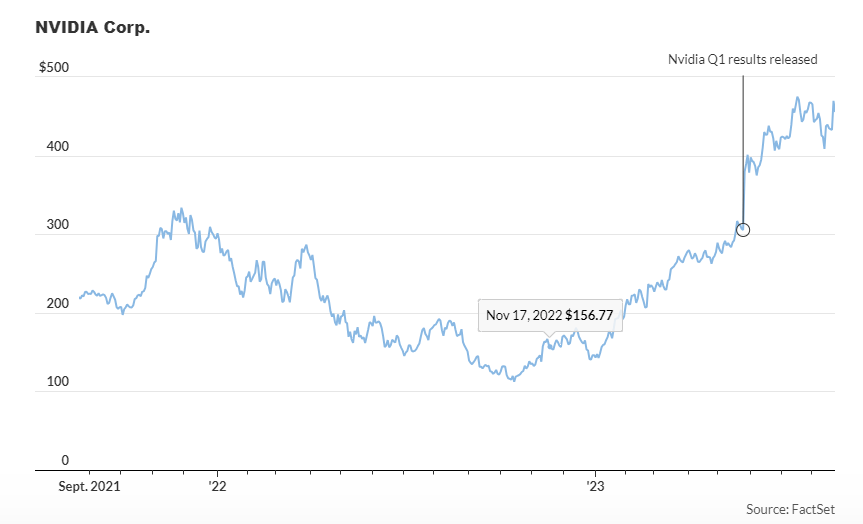 Economic Updates and Corporate Focus: The day's U.S. economic updates included the S&P services and manufacturing PMIs for August, set for release at 9:45 a.m. Eastern, followed by the July new home sales report at 10 a.m.
Key Companies in the Limelight:
Nvidia (NVDA, -2.77%) saw a 2% increase in premarket trading ahead of the highly anticipated earnings announcement after the market close. ARK Invest, led by Cathie Wood, reportedly sold Nvidia stock on Tuesday.
United Parcel Services (UPS, -0.97%) rose by 1% following a positive vote from workers for a new contract.
AMC Entertainment (AMC, -18.27%) experienced a 13% decline after an 18% drop on Tuesday. The company is planning a reverse stock split, accompanied by the conversion of the APE preferred shares.
Peloton Interactive (PTON, -0.43%) dropped by 25% in premarket trading due to a disappointing revenue outlook for the latest quarter. Additionally, a bike recall had a more significant impact on the business than anticipated.
Abercrombie & Fitch Co. (ANF, -1.41%) surged by 16% after exceeding estimates for the second quarter and raising its guidance.
Foot Locker (FL, -4.80%) declined by 28% as the sporting goods retailer reported a loss for the second quarter, lowered its full-year guidance, and announced the suspension of its quarterly dividend to preserve cash.