Treasury Yields Gain Traction, Impacting U.S. Stock-Futures Rally Momentum
Early on Wednesday, U.S. stock index futures experienced a slight softening as the ongoing rally took a brief pause, coinciding with a minor uptick in Treasury yields.
Here's a snapshot of the current status of stock-index futures:
S&P 500 futures (ES00, 0.10%) dipped by 3 points, marking a 0.1% decrease, settling at 4503.
Dow Jones Industrial Average futures (YM00, 0.12%) fell by 8 points, holding at 34880.
Nasdaq 100 futures (NQ00, 0.18%) saw a reduction of 28 points, indicating a 0.2% decline, at 15388.
In the preceding session, the market performed as follows:
Dow Jones Industrial Average (DJIA) surged by 293 points, equivalent to a 0.85% increase, reaching 34853.
S&P 500 (SPX) recorded a substantial rise of 64 points, translating to a 1.45% gain, ending at 4498.
Nasdaq Composite (COMP) demonstrated growth of 239 points, marking a robust 1.74% increase, culminating at 13944.
Market Dynamics:
The U.S. bond market's sway on stocks remains firm. A slight rise in Treasury yields (BX:TMUBMUSD10Y) in the early hours has led to pressure on equity index futures, following Tuesday's impressive rally.
The S&P 500 index reached a peak not seen in three weeks in the prior session. This came in response to a marked decline in Treasury yields, prompted by signals of labor market softness and waning consumer confidence.
Over the past three trading days, the benchmark equities index has gained a solid 2.2%, rebounding above its 50-day moving average. This coincides with a drop of nearly 15 basis points in the 10-year Treasury yield during the same timeframe. In recent times, equities tend to flourish when implied borrowing costs decrease.
Ipek Ozkardeskaya, Senior Analyst at Swissquote Bank, noted, "Yesterday marked a classic 'bad news is good news' scenario," attributing the boost in market sentiment to unexpected reductions in U.S. job openings and consumer confidence. She emphasized that these developments have shifted expectations regarding future rate hikes by the Federal Reserve.
Upcoming Data Points:
Investors are eagerly awaiting the release of the ADP report on private sector employment for August, slated for 8:15 a.m. Eastern. This report is poised to either validate or challenge the prevailing market narrative. Additionally, the July PCE inflation index and the August nonfarm payrolls report are scheduled for publication on Thursday and Friday, respectively.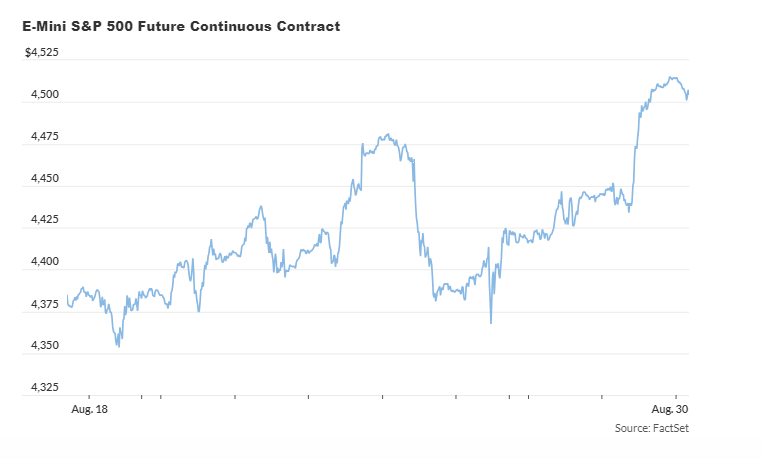 On the agenda for Wednesday are other significant economic updates, including revisions of second-quarter GDP, advanced readings of trade balances in goods, and data on retail and wholesale inventories for July. Additionally, pending home sales data for July will be disclosed at 10 a.m. Eastern.
Corporate Spotlight:
Today, all eyes are on the earnings outcome of Salesforce (CRM, +0.11%), set to be unveiled after the closing bell. Meanwhile, PC manufacturer HP (HPQ, +0.13%) adopted a cautious stance in its outlook on Tuesday, causing a 9% decline in premarket trade. HP's CEO, Enrique Lores, highlighted challenges in the PC and printer market while hinting at the potential of AI products to stimulate sales in the future.