Forecasting a Surge: S&P 500 Could Jump 100 Points Post-Inflation Data, Says Fundstrat's Lee
Tom Lee from Fundstrat has returned with a positive forecast as concerns about the 2023 market rally surface.
In a research note, the former analyst from JPMorgan Chase advised clients to seize a favorable chance to make strategic purchases. The analyst suggested that the recent drop in prices creates a good opportunity to enter the market before the consumer-price index for June is released on Wednesday. If the index matches Lee's predictions of being low, it could potentially result in a 100-point increase, equivalent to a 2.3% rise, in the S&P 500.
In recent weeks, Federal Reserve officials and the minutes from their June meeting have repeatedly stated their expectation of ongoing increases in interest rates. The futures market for Fed funds strongly predicts a rate hike in July, and the Fed's projected rate plan indicates the possibility of two more hikes in 2023. However, Lee believes that investors have quickly accepted the notion of rates remaining high for an extended period, which may not be accurate. Additionally, Lee suggests that if the inflation report is weak, the pressure on the Fed to continue raising rates could be alleviated. Lee predicts that core inflation for June might be around 0.2%, lower than the 0.3% expected by economists The Wall Street Journal surveyed for both core and headline inflation. Economists anticipate core inflation to be at 5% year-on-year, while headline inflation is expected to decrease to 3.1%.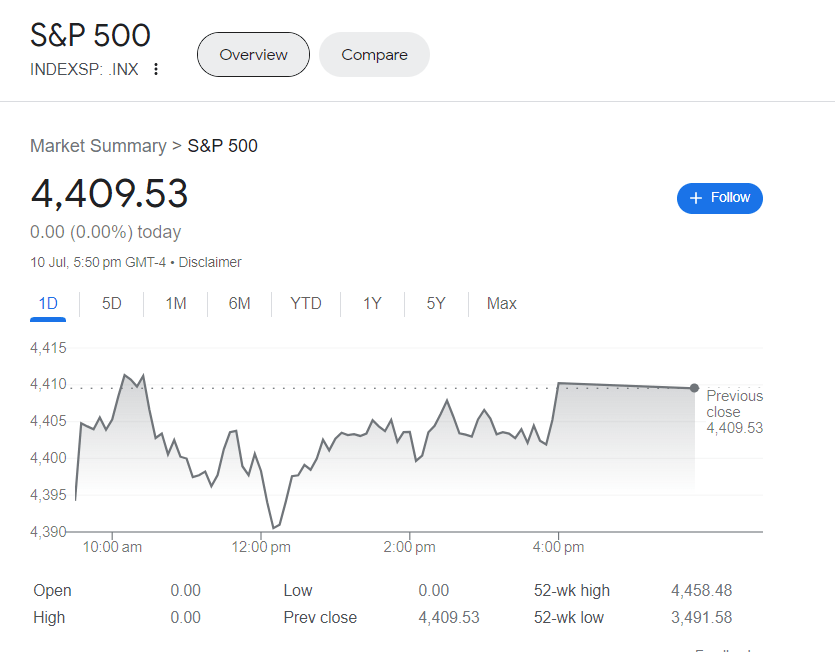 If Lee's forecast is correct, it would suggest that inflation has dropped to its lowest level since August 2021.
In an interview on CNBC Monday morning, he mentioned that if this scenario were to occur, it would show that the Federal Reserve is successfully maintaining the targeted inflation rates every month. He said a 0.2 rise would correspond to a 2.5% inflation rate annually.
Before considering any interest rate reductions, Chairman Jerome Powell stressed the importance of the central bank observing a steady and enduring comeback of inflation to the yearly target of 2%.
Lee, who founded Fundstrat in 2014, has become widely recognized for his perpetual optimism in the market. Even after the 2008 financial crisis, he maintained a positive attitude and urged investors to buy stocks. Furthermore, he guided his clients to invest in stocks during the downturn caused by the COVID-19 pandemic.
Fundstrat began 2023 by forecasting that the S&P 500 would reach 4,750 by the end of the year. Their prediction set them apart as one of the most positive analysts on Wall Street, and as part of a small group that anticipated a swift market rebound.
Take a look at this: He correctly foresaw the increase in the stock market in 2023. Now, let's find out what the most hopeful financial expert on Wall Street predicts for the second part of the year.
Lee, one of the first supporters of cryptocurrency in the finance industry, believed in the potential of bitcoin and forecasted that its value could reach $100,000 by the end of 2021. However, contrary to this prediction, the currency reached its highest point at $69,000 on November 10, 2021, according to data from FactSet. In a more recent forecast, Lee proposes that bitcoin may reach $200,000 per coin in the next five years.
As per information from FactSet, as of Monday, the worth of a single bitcoin (BTCUSD) stood at $30,344.
There was a varied performance among U.S. stocks on Monday. The S&P 500 rose by 4 points or 0.1% to reach 4,403, while the Nasdaq Composite fell by 6 points or 0.1% to reach 13,653. On the other hand, the Dow Jones Industrial Average saw gains of 158 points or 0.5%, reaching 33,895. It is important to mention that all three indexes experienced declines last week, with the Dow having its biggest decrease since March.
Why would Lee change their typical method of making long-term forecasts now?
When he appeared on CNBC, he mentioned that his main reason for making the call was to assure Fundstrat's clients. The goal was to ease their worries about the market, especially considering the bears' prediction that rising Treasury yields could impede the current rally.