Q4 Stock Market Potential: What Could Set This Year Apart?
Ryan Belanger, a strategist from Claro Advisors, has expressed concerns that the fourth quarter of 2023 might not live up to historical averages. He cites macroeconomic forces indicating a potential recession as the reason behind this apprehension.
While the third quarter of 2023 adhered closely to stock-market seasonality patterns, with both August and September proving to be challenging months for U.S. equities, some market experts see the possibility of a stock-market resurgence in the final quarter.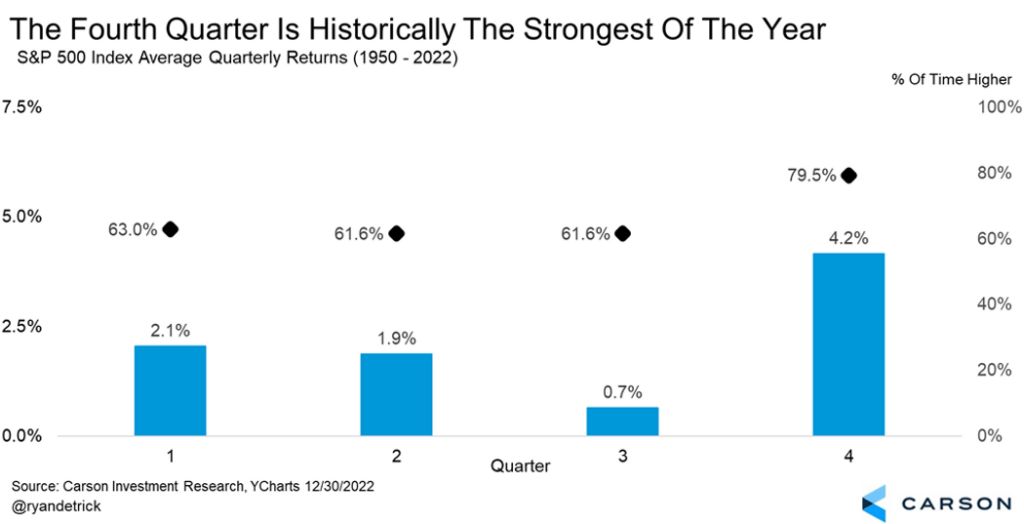 Historically, the fourth quarter has been the strongest quarter for the U.S. stock market, with the S&P 500 index showing remarkable gains, nearly 80% since 1950, and an average increase of more than 4%, double the next best quarter, according to Ryan Detrick, Chief Market Strategist at Carson Group.
October is renowned for its extreme volatility and historical stock-market crashes, including the Panic of 1907, the Wall Street Crash of 1929, and Black Monday in 1987, all occurring in October. However, Detrick suggests that, in general, October has been a "fairly decent month," especially following two consecutive months of stock declines.
Recent increases in Treasury yields and the strength of the U.S. dollar, along with seasonal market weakness, contributed to the stock market's downturn in September. The Federal Reserve's interest rate decisions and Jerome Powell's press conference further accelerated these trends.
Simultaneously, energy prices remained high in September, hovering above $90 a barrel, creating concerns about inflation and the potential need for more interest rate hikes.
As a result, the S&P 500, Dow Jones Industrial Average, and Nasdaq Composite all posted losses in both August and September.
Ryan Belanger, founder of Claro Advisors, anticipates that despite strong seasonal factors, the fourth quarter of 2023 may fall short of historical performance due to indicators pointing toward a recession, such as elevated bond yields and the Federal Reserve's contemplation of raising interest rates.
However, Ryan Detrick of Carson Group remains cautiously optimistic, noting that historical data indicates a potential stock-market rally in the fourth quarter, especially after weak August and September performances.
Detrick points out that in the past, when stocks declined 1% or more in the preceding two months, October rebounded with gains of 10.8%, 8.3%, and 8.0%, respectively. Furthermore, the fourth quarter has shown positive returns in 12 out of 13 instances since 1950, with an average increase of more than 7.0%.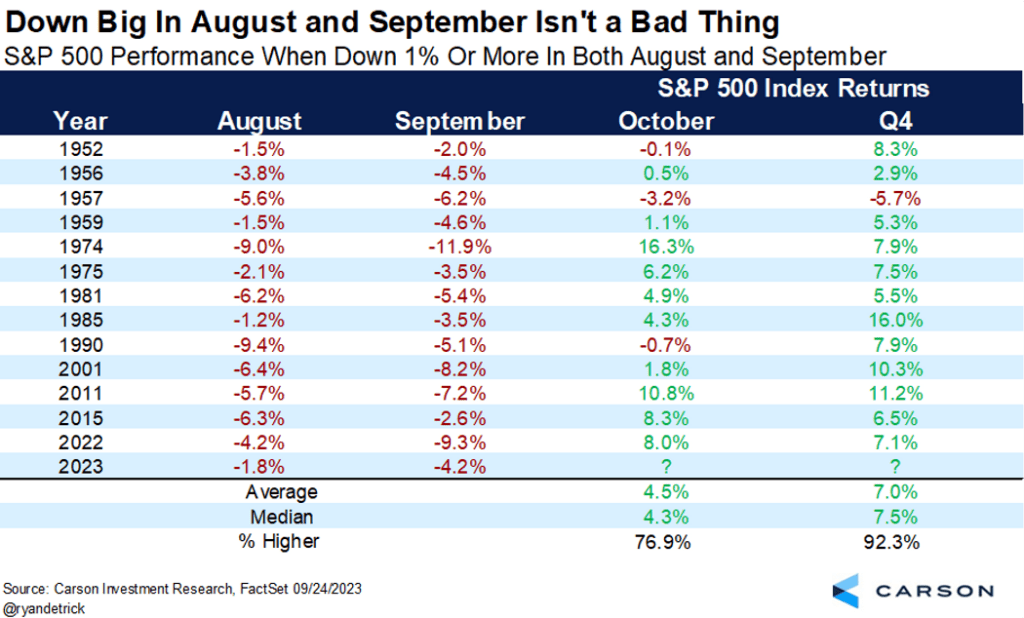 Moreover, when the S&P 500 has risen between 10-20% for the year leading into the traditionally strong fourth quarter, Detrick expects even more significant gains, averaging over 5%.
In 2023, the S&P 500 has already advanced over 12%, indicating a potentially promising outlook for the final quarter of the year.