Stock Market Alert: September's Wild Ride – What to Watch For
The robust AI-driven stock market rally that characterized recent months experienced a setback in August. The S&P 500 index is currently on track for its weakest monthly performance in half a year, while the Nasdaq Composite faces the prospect of its most significant monthly decline of the year. With September just around the corner, it's worth examining historical trends to gauge what might lie ahead.
Historical data dating back to 1945 reveals that September tends to be a challenging month for the S&P 500 index. On average, it has delivered a negative monthly return of -0.73%, making it the worst-performing month. Moreover, September stands out as the only month where the S&P 500 has experienced more monthly declines than gains, with a "win rate" of just 44%. The Nasdaq Composite, heavily weighted toward technology stocks, has also struggled in September, posting its only negative average return since 1971, with an average return of -0.86%.

Given this historical track record, investors are advised to brace themselves for the potential of lackluster performance in both the S&P 500 and Nasdaq during the upcoming month.
The U.S. stock market's impressive ascent this year faced headwinds in August as strong economic data raised concerns about the Federal Reserve's stance on interest rates. This led to a surge in longer-dated Treasury yields. Notably, the S&P 500 has already shed nearly 2% this month, potentially marking its most significant monthly decline since February. An interesting observation is that when the S&P 500 experiences a 2% or more drop in August, historical data from Dow Jones Market Data indicates that September often delivers even poorer returns.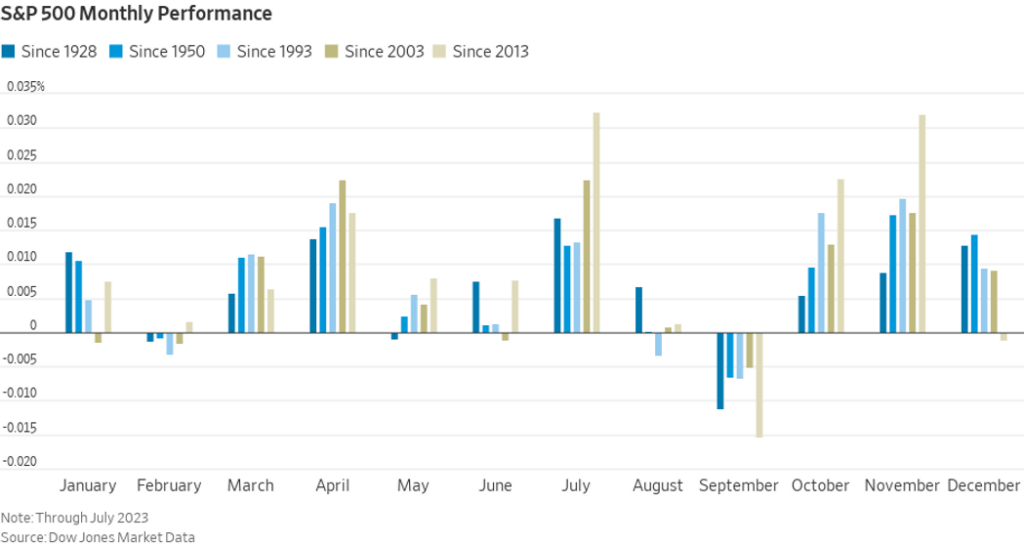 Despite these historical patterns, some factors suggest a different outcome this year. Market sentiment has shifted from bullish levels observed in late July, which could provide some support for equities in early September. Additionally, technical indicators hint at the possibility of a stock market rally.
While historical data offers valuable insights, it's crucial to remember that market dynamics can evolve. As we enter September, investors should closely monitor shifting trends and market sentiment to make informed decisions in these uncertain times.
As of the moment, U.S. stock indexes are showing modest gains, with the S&P 500 up 0.4%, the Dow industrials up 0.2%, and the Nasdaq Composite advancing 0.6%. These figures reflect current market conditions and may change as the month progresses. Stay tuned for updates and remain vigilant in your investment strategies.